April 5, 2022
Vice Chair of Republican Party Speaks to LCR Texas & All Texas Republicans

Last Thursday, the Log Cabin Republicans of Houston held its 2022 gala fundraiser, the first since 2019, after Covid forced a pause on events these last two years. The banquet was held at the stately Omni Houston Hotel in Houston's Galleria area. The Houston chapter's dinner for years now has featured high profile Republicans and conservatives as keynote speakers, and has been the largest fundraiser and annual event held by any LCR chapter in Texas, and this year did not disappoint.
The dinner's speakers featured Matt Schlapp, Chairman of the American Conservative Union which organizes the influential Conservative Political Action Conference (CPAC), Cat Parks, the Vice Chair of the Republican Party of Texas, Republican candidate for the Texas 38th Congressional District, Wesley Hunt, and Cindy Siegel, Harris County GOP Chair. Also speaking were the national president of LCR, Charles Moran, the Houston chapter's president, Chris Halbohn, and myself as Texas state chairman.
It was a wonderful evening, and it even included a cap autographed and donated by Donald Trump that fetched $6,000 in the auction portion of the evening. Chapter members receiving awards for their contributions to the chapter were Michael Baker, Jay Karahan and Cynthia Doer, and Maureen Moore, all of them well deserved.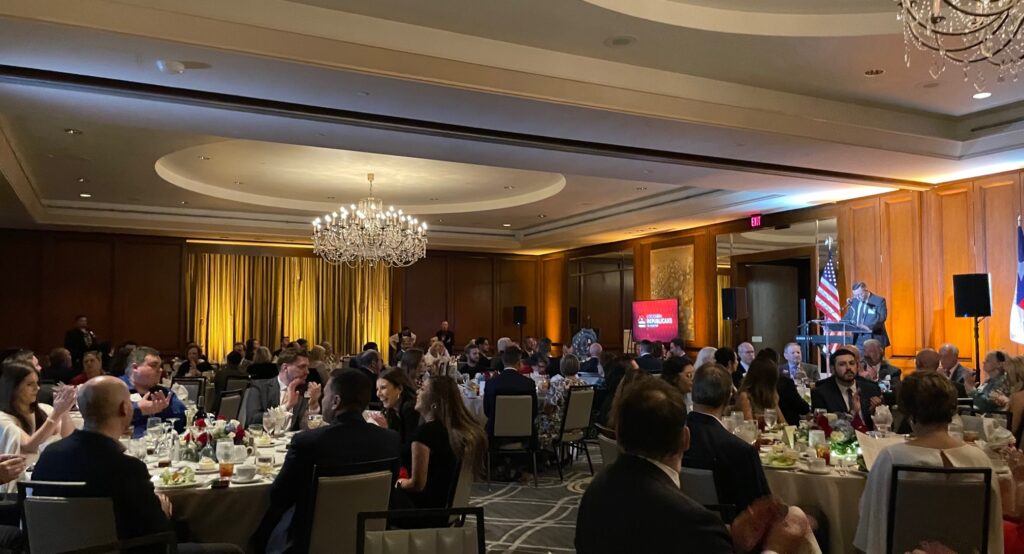 A lot of thought and labor went into the success of the event from many chapter volunteers, along with the contributions from all the featured guests, and all deserve more credit than I can give here. However, I would like to bring attention to the special contribution of Cat Parks has made these last two years to the cause of principled leadership within the Republican Party of Texas.
Having known Cat Parks these last few years, first as a friend and then as a leader, I did want to tell you, as I did those present Thursday night, something you ought to know about Cat Parks. Since Cat Parks became the vice chair of the Republican Party of Texas, no one has endured more backlash, vitriol, intrigue, and abuse for the mere act of saying that LCR Texas is entitled to a booth. Not for saying that she agrees with LCR Texas' positions, or that she has adopted its mission, but for simply saying LCR Texas should be treated by the Republican Party of Texas under the same standards as everyone else. Yet, despite the unrelenting assaults on her character, for two years she has refused to budge. Over the years I have seen so many good people sympathetic to LCR Texas crumble under intense pressure, so I would have understood a decision to decline attending the Houston dinner. But, when I invited her (almost a year ago now) to speak at the next Lincoln Day Dinner, she firmly said, "I'm coming."
On Thursday Cat Parks was the highest Texas state party official ever to address an LCR Texas chapter. Last December, she made it possible so that for the first time ever, a leader of LCR Texas could directly address the assembly of the State Republican Executive Committee, and defend LCR. And, at the dinner, without any expectation from any of us at LCR Texas, Cat Parks declared that if LCR Texas is not allowed a booth at the exhibit hall of the 2022 state convention, she herself would not set foot in that hall. She declared "I am your ally, and there are Republicans all over this state who are your ally."
The Texas Monthly's latest headlines notwithstanding, she is right – we do have Republican allies all over this state.
I spoke at the dinner about the kind of leadership worth following. A leadership of integrity bound to an ethical steel that will not bend to falsehood, intimidation, tricks, or insults. Well, that's Cat Parks.
God bless Cat Parks, and God Bless the Mighty State of Texas.
Marco A. Roberts, Chairman