July 22, 2021
After three days of setting up and manning a booth at CPAC-Dallas for the Log Cabin Republicans of Texas; answering questions from convention-goers, commentators, and reporters; greeting distinguished visitors such as Ric Grenell; handling the booth being mobbed when California gubernatorial candidate Caitlyn Jenner stopped by; the entire LCR Texas Team of volunteers flocked to the speakers forum to hear former President Trump's speech electrifying thousands at CPAC. Afterwards, volunteer members of LCR Texas chapters from across the state packed up and closed down our visible and popular presence at the high profile conference of conservatives from across the nation.
Continued below-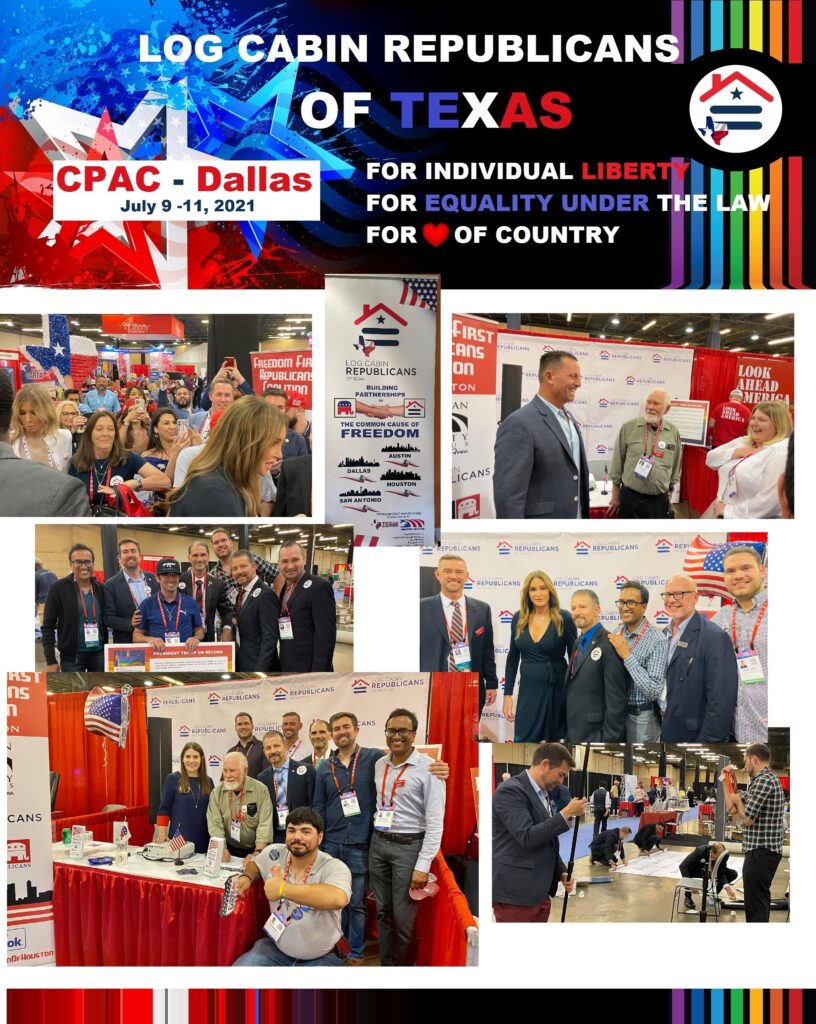 Including the individual volunteer registration fees (volunteers generally had to cover their own registration fee), the booth was a $9,000 investment that paid off in hundreds of positive contacts over three days with Republicans, Libertarians, and conservatives of all stripes, and LCR Texas' presence noted in signage throughout the conference area. In fact, out of all the hundreds of interactions throughout the three days at this most high profile and well-established national conference of conservatives, not a single negative word was expressed to our booth team members, or heard by any of them, with one notable exception: longtime Houston activist Dr. Steve Hotze was spotted in the crowd that was mobbing the booth when Caitlyn Jenner showed up, and he was heard shouting an epithet as Jenner left the booth. All in all, the booth, located right in the center of the exhibitor's hall, was a positive step for LCR Texas.
Thank you to all the members and donors from Log Cabin Republicans of San Antonio, Log Cabin Republicans of Austin, Log Cabin Republicans of Dallas, and Log Cabin Republicans of Houston, whose donations, chapter contributions, and logistical support made our presence possible. Special thanks to Weston Anderson in Houston for his cornerstone donation.
To all our LCR Texas CPAC Team: thank you very much for all your dedicated help and support those three days. These volunteers made sure that all the money that was raised and spent, and all the advance work, was turned into an unqualified success and a credit to all our Texas chapters. They were in alphabetical order by last name: Mike Alberts, Kyle Casey, Aaron Hord, Ron Hudson, Kory Ladd, Stevie Meng, James Moore, Ranil Ninala, Lihan Oliver, Les Read, Bo Richardson, Marco Roberts, and Ashley Sobota. From filling in wherever we had gaps, to committing to daily shifts; from taking promo pics and managing social media or organizing our group dinner; from assisting allied friends with their needs or coordinating with partners their presence at our booth; all of it made for a great event advancing the cause and mission of LCR Texas, and LCR in Texas. And, the best part was that everyone did it in a positive and caring spirit of friendship and regard for others.
To the Houston volunteers, added thanks for making the three-and-a-half hour drive up; and to our Dallas volunteers, thank you for added local support in coordinating actions and making everyone feel so welcome in your home turf.
With deep and grateful appreciation on behalf of the LCR Texas Board and all the members across the state that you represented and made proud, congratulations to all of you on a job well done.